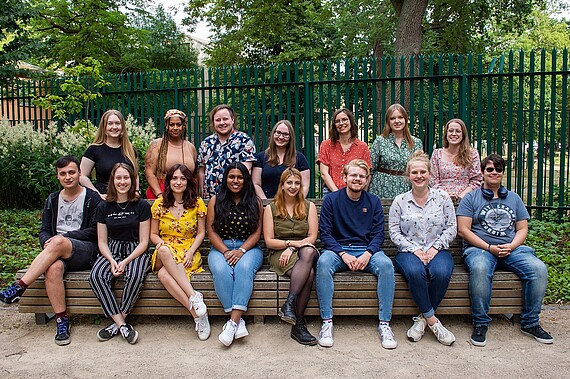 Hello and welcome!
We are the Fachrat English and we would like to introduce ourselves!
All members of the Fachrat are students of English (FüBa, M.Ed., DEL, MAAS) who spend some of their time trying to make your student life even more enjoyable. We organise most of the big events for students, e.g. the Orientation/first-semester week, parties, Thanksgiving-dinner, and game nights. In order to make all of these events possible, we meet once a week during the semester (except during the term break). If you have questions concerning any part of your English studies, you can contact us either via our social-media channels (you'll find the links below) or meet us at the Café T (Conti-Tower, 603). Usually, one of the Fachrat members is around and willing to answer your questions. If you are craving a snack or a warm cup of tea or coffee, or just a simple chat, those are available at the Café T as well! We look forward to seeing you there sometime soon! This is just a small insight into the work we do. If you'd want to join the Fachrat, please feel free to contact us via our social-media-channels and maybe we will see each other at one of our next meetings!
Your Fachrat English
Fachrat Meetings (WiSe 22/23): on Thursdays, starting at 6:15 pm in the Café T (Room 603).
Newcomers are always welcome and are free to join whenever. Just come to one of our meetings or approach us about it!
Café T Opening Hours (WiSe 22/23):
Usually we are open from Monday - Thursday, from 10 am till 4 pm. Otherwise: just enter whenever the door is open!
Our social media:
Mail: info@fr-englisch.uni-hannover.de
Instagram: fachrat_englisch_hannover
Facebook: Fachrat Englisch Uni Hannover
Discord: Hogwarts LUH discord.com/invite/mXrTcFg